Loopscholing en gang-analyse | 4 december 2019
De workshop "Loopscholing en Gang-analyse" is een workshop voor therapeuten en trainers die betrokken zijn bij zowel revalidatie aan de onderste extremiteiten als training op het gebied van loopvermogen.
Het gebruik van een beweegbare bodem biedt talloze extra mogelijkheden voor het zwembad. Met name omdat de training of therapie aangepast kan worden op de wensen en behoeften van elke gebruiker, wordt je altijd in staat gesteld een op maat gemaakt programma te bieden.
Voor een unieke en uitgebreide looptraining kun je met een onderwaterloopband perfect uit de voeten. Maar hoe ziet een dergelijke training er dan uit, en voor wie kun je dit toepassen?
Tijdens deze workshop wordt stilgestaan bij het uitbreiden van de mogelijkheden voor een zwembad en vooral bij de toepassing van een onderwaterloopband.
Met de expertise en kennis vanuit voetbalclub Vitesse wordt in zowel theorie als praktijk een unieke inkijk gegeven in de trainingsfaciliteiten op nationaal olympisch sportpark Papendal.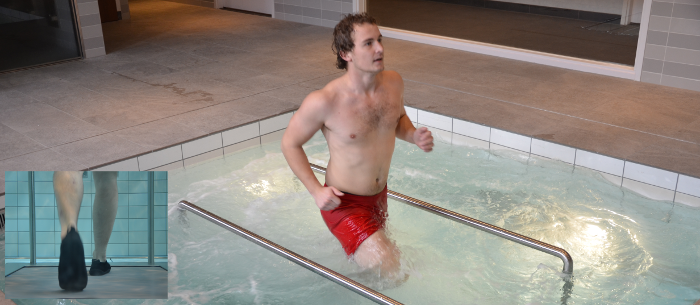 Therapie in water, wat is dat eigenlijk?
Therapie in water, of anders gezegd;
hydrotherapie, richt zich op behandelingen en oefeningen uitgevoerd in water.
De gewichtloosheid van het lichaam in combinatie met verwarmd water maakt hydrotherapie uitermate geschikt voor patiënten met een lichamelijke- of verstandelijke beperking of in het geval van blessures.
Zodoende dient het als een uitermate geschikt middel ter versterking van het revalidatieproces of het verhogen van de kwaliteit van leven.
Voor wie?
Hydrotherapeuten, PMT'ers, fysiotherapeuten, begeleiders en bewegingsagogen.
Doelgroep
Revalidatie aan de onderste extremiteiten
Programma
16:00 – 16:30 uur Introductie en kennismaking
16:30 – 17:30 uur Theorie
17:30 – 18:15 uur Pauze en diner
18:30 – 19:45 uur Praktijk
19:45 – 20:00 uur Omkleden
20:00 – 20:30 uur Discussie en afsluiting
Locatie
Trainingcomplex Vitesse
Papeldallaan 40
6816 VD Arnhem
Trainer
Jos Kortekaas
Aanmelden
Deze workshop is inmiddels geweest!
Wilt u op de hoogte worden gehouden over mogelijke workshops in 2020? Stuur een e-mail naar medical@ewac.nl
Kosten
U kunt zich (tijdelijk) kosteloos aanmelden!
Alle workshops