Product
Wij maken het mogelijk om iedere bruikbare ruimte in te zetten voor hydrotherapie. Ons vrijstaande modulair bad kan worden gemonteerd op iedere mogelijke plek. Hydrotherapie wordt zo bereikbaar voor een verpleeghuis, ziekenhuis of klein revalidatiecentrum. Terwijl de patiënt oefeningen in het water uitvoert kan de therapeut zijn bewegingen via de zijramen observeren en corrigeren.
Het modulair bad kan worden uitgerust met een groot scala aan opties.
Waarom Roestvast Staal beter is
In veel gevallen is een zwembad uit roestvast staal een veel betere oplossing dan een zwembad van beton of polyester. Lees meer.
Kennis
Een modulair bad is geschikt voor een individuele behandeling of voor kleine groepen. De afmetingen maken het mogelijk dat alle bekende methoden in de hydrotherapie kunnen worden gebruikt. Ons kenniscentrum biedt in een aantal hoofdstukken duidelijke beschrijvingen van deze methoden.
Wij kunnen een modulair bad uitrusten met een breed scala aan opties, waaronder een beweegbare vloer en een onderwaterloopband.
Ervaring
EWAC Medical ontwerpt en bouwt al meer dan 25 jaar modulaire baden en heeft wereldwijd meer dan 1.000 projecten succesvol afgerond. Wij werken continu aan verbetering en innovatie. Modulaire baden dienen vaak in bestaande ruimtes te worden ingepast. EWAC Medical heeft bewezen voor iedere situatie een passende oplossing te hebben. Bekijk onze projecten.
Daarom is EWAC marktleider in hydrotherapie.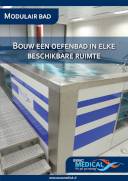 Lees verder over het belang van goede waterhygiëne:
Het belang van goede waterhygiëne in zwembaden voor hydrotherapie